CHC Monitor (Basic) & CHC VAV Controller
CHC VAV Controller and CHC Monitor, which are optimized for CHC Lab's fume hood, measure the wind speed of the fume hood in real-time and deliver the status to the user. * Emergency discharge system, fume hood surface wind speed display, and control (CHC VAV Controller), full-color touchscreen applied.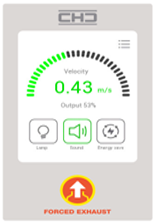 Specification
| | |
| --- | --- |
| Model | CHC VAV Controller |
| Dimension(WⅹDⅹH, mm) | 80ⅹ130ⅹ30 |
| Face velocity Measurement Range | 0~1 m/s (±0.03 m/s) |
| Power | AC 110 / 220V, 50 / 60 Hz |
| Current | 0.5A |
| Communication Port | RS485 |
Emergency Exhaust
In case of an emergency, such as a leak of a large amount of toxic gas, the internal air can be quickly discharged by increasing the exhaust air volume.
Fume Hood Face Status Display
The user can check the status of the fume hood by measuring and displaying the face velocity in real time through the sensor.
Fume Hood Face Velocity Control
CHC VAV Controller automatically adjusts the damper according to the opening height of the sash to keep the face velocity constant.